Safe & sturdy
Cantilever Racking
Cantilever racking is a system specifically designed for the safe and organised storage of long and heavy loads. Our cantilever systems are an effective and efficient alternative to conventional lighter weight storage solutions. A robust design with all uprights and bases manufactured from heavy duty universal beam sections.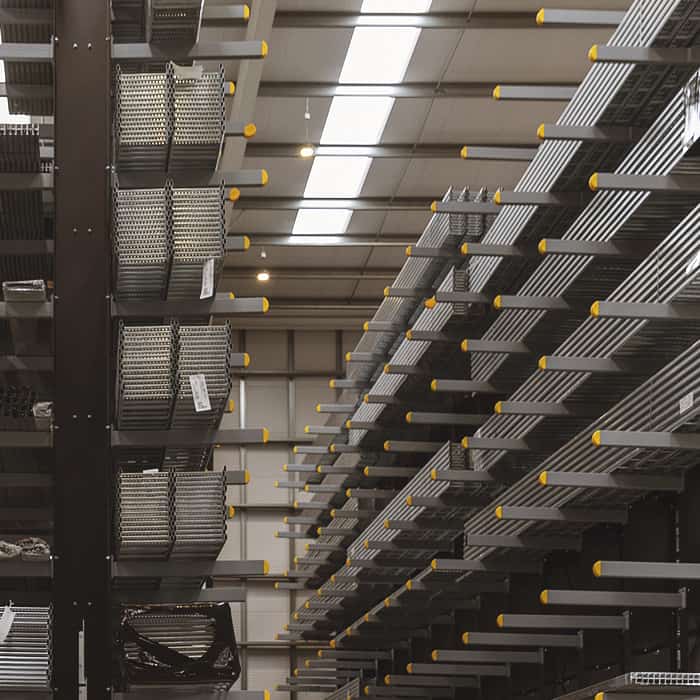 The Cantilever Racking, even if considered belonging to APR12, is a category on its own. It uses in fact special structures for all key components starting from the uprights. The various elements therefore have a completely different concept and design from the APR12 line.
The Superior Racking and Shelving Ltd cantilever shelving systems  are versatile products available in a wide range of sizes to enable individual solutions to be tailored to client requirements.
It is quick and easy to assemble with the main components simply hooking and locking together to provide a strong rigid structure.
With a full range of accessories, choice of upright styles, and flexibility to increase shelf capacities, the system is ideal for providing storage solutions ranging from simple low rise shelving accessed by pedestrian operatives through to high rise installations requiring access via raised walkways or mechanical order picking equipment.
Need a quote or further information?
One of our helpful staff will be delighted to help you to pick out a product and type of pallet racking to suit your needs. Contact us now to ask about our racking and shelving systems and get the SUPERIOR quality at the BEST VALUE prices around.